Italians march against racism after shooting spree
Comments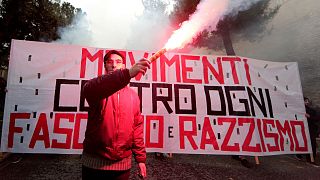 -
Copyright

REUTERS/Yara Nardi
Thousands of Italians marched against racism on Saturday in the city of Macerata, where a far-right activist shot and wounded six African migrants a week ago.
The shooting spree came days after a Nigerian asylum seeker was arrested in connection with the gruesome killing of an 18-year-old Italian woman, whose dismembered body was discovered stuffed into two suitcases near Macerata.
The gunman, 28-year-old Luca Traini, a former Northern League candidate at local elections, told police he was avenging the woman, named as Pamela Mastropietro.
"What happened here was an act of terrorism," said Amin Nour, an African migrant. "We are sorry for what happened to Pamela, it was something horrible, but monsters have no colour or origin, they are just monsters."
Authorities had originally banned the rally for fear of violent clashes, and only authorised it on Friday (February 9).
In a sign of growing anti-migrant sentiment in Italy, none of the leaders of the main political parties showed up.
The Macerata shootings have dominated recent days of campaigning for Italy's March 4 parliamentary elections in which immigration is a major issue. More than 600,000 migrants have arrived on Italy's shores from North Africa in the last four years.
One placard read "fascist Salvini" a reference to Matteo Salvini, the leader of the right-wing Northern League party which campaigns strongly against illegal immigrants
Another rally is scheduled for next week, which a group founded by veterans of the Italian resistance against Mussolini will attend.