Who is Elsa Artadi, the emerging future president of Catalonia?
Comments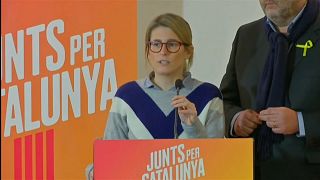 Junts per Catalunya's (JxCat) campaign director Elsa Artadi is emerging as the next president of Catalonia, according to Catalan radio RAC1.
And until a final court ruling is issued in his case, Puigemont still hopes to govern the region de facto from his Brussels refuge as president of a specially created 'council of the republic', once Catalonian law has been changed to accommodate it.
Putting Atardi at the helm of JxCat would avoid any legal backlash from Madrid as Puigemont leads in parallel in Brussels.
The Catalan separatist leader fled to Belgium in October to escape charges of sedition, rebellion and embezzlement from Spain, after his attempt to split Catalonia from Spain via an independence referendum angered the government.
Catalan's parliament was then dissolved and direct rule was imposed until fresh elections were held, after which Puigemont was re-elected as president in December.
But Spain's Constitutional Court has ruled that the exiled politician cannot be sworn in in absentia and without authorisation by judges, but a final ruling is still due.
From Harvard to the Generalitat
A graduate in Economics from the Pompeu Fabra University and a doctorate from Harvard, 42-year-old Elsa Artadi has been Carles Puigdemont's 'right-hand man' in recent years. When he fled to Belgium to avoid Spanish justice in October, Artadi orchestrated a successful electoral campaign that allowed JxCat to surpass the Republican Left of Catalonia (ERC). According to RAC1, negotiations between the separatist parties, which dominate the new Catalan parliament, have since progressed significantly and most executive members have been chosen.
Yoga enthusiast Artadi traveled to Massachusetts to get her doctorate with a grant from the La Caixa Foundation. She then continued her career in Italy, teaching at the prestigious University Bocconi in Milan, until she decided to return to Catalonia.
Artadi has also worked as a consultant at the World Bank in Casablanca, Morocco, and speaks Catalan, Spanish, English and Italian. She joined the government as an adviser to the former Minister of Economy Andreu Mas-Colell.
But Artadi's brilliant resume has not kept her out of controversy. Earlier this week, Artadi sparked criticism on social media for wearing a coat worth €1150 while accompanying Carles Puigdemont in Brussels.