US government shuts down despite late Senate vote on budget deal
Comments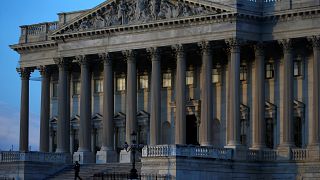 NB Since this story was published, Congress has voted to end the shutdown. An updated version is available here.
The US Senate has approved a budget deal including a stopgap funding bill, but the vote early on Friday came after a midnight deadline and too late to prevent a federal government shutdown.
It is the second shutdown in under a month: in January the administration closed down for three days following a similar failure to pass a bill.
The government has told employees to refer to official guidance on whether or not to report for duty. It is not clear yet what the impact on services will be.
The late Senate approval means the budget and stopgap funding package will go next to the House of Representatives. Lawmakers there are divided along party lines and it is uncertain whether the measure will pass.
The shutdown may well be temporary, but can only end when the package is approved by both houses of Congress and signed by President Trump.
There had been hopes a new spending bill would be approved by the Republican-controlled Congress before federal funding expired. However a fiscal conservative in the Senate, Rand Paul, made an on-off floor speech over several hours to block it. He objects to 300 billion dollars in deficit spending in the bill.
Republican 'hypocrisy'
The outspoken Senator was complaining that his fellow Republicans had turned away from the fiscal discipline they showed a few years ago.
"When the Democrats are in power, Republicans appear to be the conservative party. But when Republicans are in power, it seems there is no conservative party. The hypocrisy hangs in the air and chokes anyone with a sense of decency or intellectual honesty," the Kentucky senator said during his speech.
He said the overall bill that includes a stopgap measure would "loot the Treasury". Some estimates put the proposed increase in spending - which includes 165 billion dollars in extra defence funds - at even higher than the 300 billion dollar quoted figure.
Other Republicans are said to oppose a bi-partisan deal designed to put an end to squabbling over fiscal policy, at least until beyond November's midterm congressional elections.
Donald Trump has been criticised for fiscal irresponsibility and failing to deal effectively with Washington's obligations, although the US president played little role in the Senate-crafted bill.
Democrat misgivings
The Democrat leadership has not ordered its members in Congress to oppose the bill, although the party's House leader is against it.
Some Democrats say the bill fails to address immigration. There are calls for it to include protection for so-called Dreamers – young immigrants who came to the US illegally as children – from deportation.