Luxury European jewellers failing to ensure ethical supply chains: report
Comments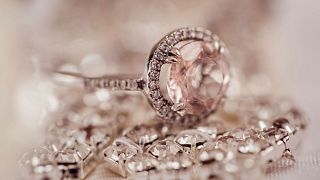 Some of Europe's best known luxury jewellers have been accused of failing to ensure that the gold and diamonds on their shelves were sourced ethically, with many reportedly lacking adequate policies to stamp out human rights abuses.
In a new report by Human Rights Watch, the group says UK brand Boodles, Switzerland's Chopard and Germany's Christ were all ranked as "weak" in terms of their approach to ethical sourcing.
HRW said that while the brands had made some effort to ensure responsible sourcing, they had failed to make public crucial information about supply chain and human rights due diligence.
"The conditions under which gold and diamonds are mined can be brutal," HRW said in its report, citing the deaths of child miners, evictions of indigenous people, pollution caused by toxic chemicals from mines, and the impact of armed groups exploiting gold and diamonds.
"Jewellery companies have a responsibility to ensure that their businesses do not contribute to human rights abuses at any point in their supply chains," it added.
In a statement to Euronews, Boodles said it had historically relied on "trusted suppliers to identify and mitigate against human rights risks."
"We recognise, however, that there is more we can do to ensure our suppliers are sourcing materials in an ethical and sustainable manner, aligned with our values of integrity and honesty," it added.
Boodles said it had been taking steps to ensure its commitment to ethical sourcing and transparency and would "continue to review our procedures to ensure they reflect industry best practice."
Chopard and Christ did not immediately respond to requests for comment.
Of 13 brands included in HRW's report, none were found to have fulfilled all of the criteria for responsible sourcing.
HRW said Tiffany & Co. had taken the most significant steps, while Italy's Bvlgari, France's Cartier, Denmark's Pandora and US/UK brand Signet were all put in the "moderate" category.
Indian jeweller Tanishq was described as "very weak", with no evidence at all of steps towards responsible sourcing.
Famous Swiss watchmaker Rolex was among the brands given no ranking because it failed to provide any information on responsible sourcing, HRW said.
"To move forward, all jewellery companies need to put in place strong human rights safeguards—otherwise, they risk contributing to human rights abuses," it said.
Recommendations for companies included assessing and responding to human rights risks in supply chains, publishing the names of gold and diamond suppliers, and sourcing from responsible small-scale mines.