World's first dance club in zero gravity takes off
Comments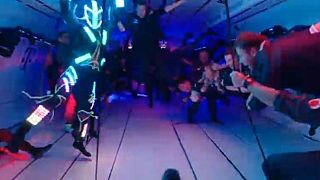 Copyright

World Club Dome
A German event organizer has treated a select few to the world's first dance party in zero gravity.
Frankfurt-based Big City Beats picked 50 competition winners from across the globe to take part in the rave on Wednesday as part of the annual World Club Dome music festival.
The clubbers, from as far and wide as the USA, Morocco, Spain, Germany, and Australia, beat over 30,000 applicants to secure their spot in the party, which took place in a chartered ZeroG-Airbus.
The research plane, which is used to train astronauts from the European Space Agency (ESA), generated weightlessness by making 16 controlled parabolic manoeuvres during its four-hour flight over the Mediterranean.
Inside, passengers entered a state of freefall where all objects fall at the same rate as the plane.
The event was broadcast live on Facebook and was headlined by DJs Steve Aoki and W&W.
American electro house musician Aoki told German broadcaster Deutsche Welle: "It was one of the most insane experiences that I've ever had. Sitting on the ceiling — that was crazy"
Unlucky applicants who missed out on the event can still bag a spot on a zero-gravity party.
With 15 World Club Dome Zero Gravity flights still in the works, wannabe-partygoers can wait for tickets to become available, or rent a ZeroG-Airbus privately to the tune of €6,000 per ticket.