Plans for UK interest rate hike
Comments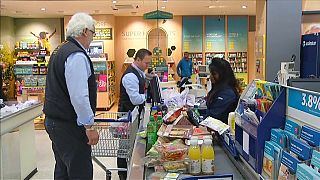 The Bank of England said interest rates probably needed to rise sooner and by a bit more than it thought three months ago, after it raised its economic growth forecasts for Britain due to the strong global recovery.
The BoE's rate-setters voted 9-0 to hold Bank Rate at 0.5 percent.
But Governor Mark Carney and colleagues said they now wanted to return inflation to its 2 percent target over "a more conventional horizon", a sign they were turning their sights to tackling price growth over two years rather than three.
The Monetary Policy Committee raised interest rates for the first time in a decade in November and that it now thought the next rate hike needed to come a bit more quickly than it thought then.
Before the statement, investors saw a nearly 50-50 chance of the next hike coming in May, when the BoE is due to update its economic forecasts again, and this new message is likely to increase bets on a move then.
Britain's economy has slowed since the 2016 Brexit vote but it has fared better than many investors expected at the time of the referendum, thanks largely to the much stronger global rebound in countries such as the United States, Germany and other key trading partners.
The BoE nudged up its economic growth forecasts for Britain to show an average annual expansion of 1.75 percent over the next three years.
That was a lot weaker than its expectation of global growth of nearly 4 percent over the same period and was also below the country's pre-financial crisis average of about 2.9 percent.
The BoE lowered most of its inflation projections after sterling rose recently and bond yields in financial markets jumped. But inflation was expected to remain above the 2 percent target at 2.11 percent in three years' time.
BoE Governor Mark Carney said last month that Britain's chances of catching up with its faster-growing peers depended largely on progress in the Brexit negotiations between London and Brussels.