Trump touts plans for US military parade
Comments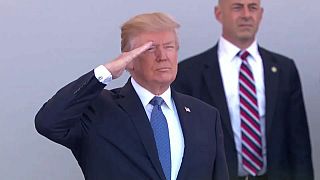 France's Bastille Day celebrations could be copied by the United States.
Inspired by his visit to Paris last year, President Donald Trump now wants a show to call his own.
He's ordered the Pentagon to look into staging a military parade.
The White House says Trump wants something for "all Americans to show their appreciation"
France's parade included marching soldiers, tanks, armoured vehicles and a fly-past of US and French warplanes.
A Pentagon spokesman said the Department of Defense is only exploring the possibilities at this time.