Markets continue to be volatile
Comments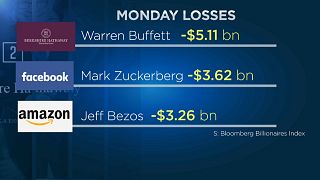 Markets across the world have bounced back -after a shaky start at the beginning of the week.
That's not to say they're out of the woods yet. Many stock traders look to the health of the US market. If the Dow Jones takes a hit other markets may follow. Since the Second World War, the markets have fallen more than 4.5% 30 times. But they don't always bounce back the next day.
On Monday three billionaires lost big.
Warren Buffet lost the most, more than $5 billion followed by Facebook's Mark Zuckerberg and Amazon boss Jeff Bezos.
For now, most markets seem to be in recovery. But a mixture of Donald Trump's tax policies and increasing inflation rates mean this week could still be volatile.