Asian stocks slide as global markets fear interest rate rise
Comments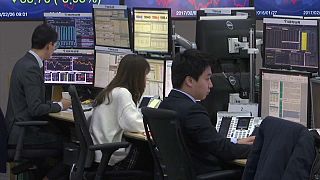 Asian shares have fallen sharply across the board in reaction to a Wall Street plunge not seen for a decade.
Japan's Nikkei dropped 4.6 percent while South Korean shares fell two percent.
China stocks tumbled as a global market rout intensified, with the Shanghai index posting its biggest loss in nearly two years on worries that inflationary pressures will prompt central banks to raise rates faster than expected.
The Shanghai Composite Index slumped 3.4 percent to 3,370.65 points, its biggest single-day drop since February 2016, while the blue-chip CSI300 index ended down 2.9 percent at 4,148.89.
Hong Kong's benchmark Hang Seng Index plummeted 4.9 percent, on track for its biggest daily percentage drop since August, 2015. Hong Kong is particularly exposed to U.S. rate moves because its currency is pegged to the U.S. dollar.
Hours before, the Dow Jones had plummeted by 1,175 points - its worst drop since September 2008 when a plan to rescue the US banking industry was rejected.
The decline follows months of market increases, which have fuelled concerns that share prices were over valued.
The market activity has prompted the White House to make reassuring noises saying that it was focused on "long term economic fundamentals which remain exceptionally strong