Game of Thrones writers promise new Star Wars movies
Comments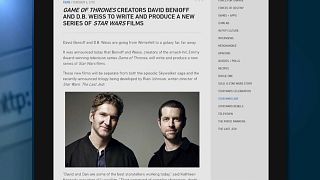 Not content with having created one cultural behemoth, the writers behind TV's"Game of Thrones", David Benioff and D.B. Weiss, are to take on the biggest franchise of them all, Star Wars, and make a new series of films in a galaxy far, far away for Walt Disney.
The writers stress the films will be entirely separate from the core stories and the "Solo" spinoffs, filling in Han Solo's youthful backstory.
With the final season of GoT now being filmed with release set for 2019, the writers say they will start their new project immediately their work in Westeros is done.