Brits in the Netherlands win bid to take EU citizenship case to ECJ
Comments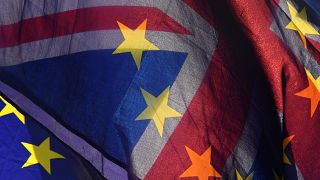 Copyright

REUTERS/Toby Melville
A group of British citizens in the Netherlands on Wednesday won a landmark ruling to have their bid to retain European citizenship after the UK leaves the EU referred to Europe's top court. 
The five plaintiffs had asked judges in Amsterdam to refer the issue to the European Court of Justice in Luxembourg, which they hope will rule that all member states must guarantee the rights of Brits living there under European law.
In his ruling, the judge said he would ask the ECJ preliminary questions about the consequences of Brexit for EU citizenship, and what rights EU citizenship carries. 
"Stunned is the only word for it," plaintiff Stephen Huyton, a financial director who has lived in the Netherlands for 24 years, told Euronews following the decision.
"Most of us had concluded that the chances were only 50%...You couldn't have wanted for a better result."
A favourable ruling by the ECJ could affect all British nationals living in the EU, guaranteeing rights such as freedom of movement.
The principle of Wednesday's case was "whether or not EU citizenship is actually coupled to nationality," Huyton said. 
The plaintiffs argue that Article 20 of the Lisbon Treaty gives them the right to retain EU citizenship after Brexit because it states that "citizenship of the union shall be additional to and not replace national citizenship."
"It's not clear what happens when a country leaves [the bloc] … we want clarification from the ECJ about what the treaty says," Huyton explained.
Huyton told Euronews he was approached by a legal team led by British barrister Jolyon Maugham, who has been behind other Brexit challenges, about bringing forward the case because Dutch courts "have a reputation for referring cases to the European courts."
He said he felt frustrated by the UK's decision to leave the EU, and the effect that it could have on his and his children's lives, as well as the lives of other Brits living elsewhere in Europe.
"A lot of people who voted for Brexit have never exercised their right to move around," he said, adding that he did not have the right to vote in the referendum because he had been living outside of the UK for more than 15 years.
An estimated 86,000 British nationals currently live in the Netherlands, of whom 47,000 are first-generation migrants, according to Dutch statistics office CBS.
The Netherlands does not allow foreigners to have dual nationality in most cases.