Billionaire Musk successfully launches world's largest rocket
Comments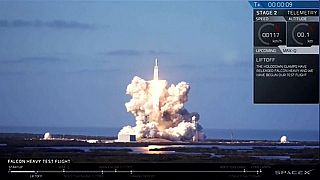 In a move which could change the future of space travel, billionaire businessman Elon Musk has successfully launched the world's most powerful rocket.
The centre booster rocket slammed into the Atlantic later at nearly 500 kilometes an hour .
Musk said he was relieved the launch had gone well.
"Incredibly proud of the SpaceX team, they've done an incredible job of creating well really the most advanced rocket in the world, the biggest rocket in the world," he said. "I had this image of just a giant explosion on the pad with a wheel bounding down the road."
SpaceX says it want to send missions to Mars in the coming years. But whatever Musk's personal ambitions, experts say the launch is a huge step forward for the space industry.
"The re-usability of the rocket boosters, which is something SpaceX is leading the way in, is key to bringing down the cost of launch and making it more environmentality friendly and more sustainable,"  said Libby Jackson, head of human space flight, UK Space agency. "And to see those two boosters coming down side by side that was a brilliant view and just a sign of how space is evolving."
And in a touch of whimsy, the rocket's mock payload was a cherry red Tesla from Musk's own electric car company which could end up in perpetual Earth orbit.