Midnight queues in Cape Town as water crisis deepens
Comments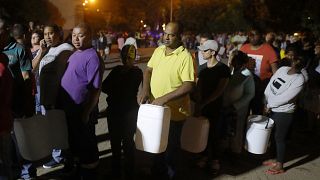 Hundreds of residents are being forced to queue overnight to stock up on water, as Cape Town struggles with a severe drought.
It could be just a foretaste of what is to come in the South African city unless rain falls.
Already residents and visitors are being allocated a daily amount 7 times less than what is used by the average US citizen, according to the World Water Council.
"Everybody from the townships to the elegant suburbs, they are living on 50 litres of water a day," Andrew Meldrum, Acting Africa Editor at Associated Press told Euronews. 
"And it means that people are being very careful about how they wash, how long they shower, how they cook, how they wash their clothes. But I have friends that I have spoken to who are living under not just 50 litres a day, they are living on less than 20 litres a day so it can be done."
On Monday, city officials pushed back "Day Zero" – the day taps could run dry – by a month to May 11 from April 16, as farmers in the water intensive agriculture sector cut back consumption amid tight restrictions.
Locals though still fear the worst.
"I think there is going to be chaos," said Saleigh van der Schyff, as he inched forward in a long queue where people lined up to collect water from a natural spring just before midnight in the Newlands suburb.
"I hope Day Zero never comes, but I can see with people wanting to come here and the desperation for water, we are soon going to realise that water is more valuable than oil."
The spring runs 24-hours a day and has at least three security guards on duty to keep tempers in check.
Last week, dam levels in Western Cape province fell to 24.5 percent from 25.3 percent the previous week and from nearly 38 percent a year ago.
Cape Town's drought is part of a wider climate change pattern seen around the country including Eastern Cape province, where several towns also face water shortages.
with Reuters