Italian families attempt to reduce the amount of food they waste
Comments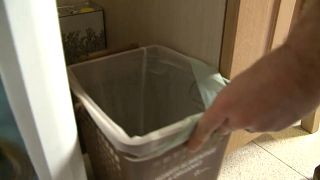 In Rome, in the suburb of Cinecittà, there are 400 Italian families monitored as part of the EU campaign against food waste called Reduce. Every year on the fifth of February Italy marks the idea of using as much food as possible and discarding less. The mediterranean country is determined the reduce the two million tonnes of food that it throws out annually. Euronews went to visit the Di Salvio family, a couple with two children who participate in the project.
"They gave me a diary," said mother Velentina Brengosa, "where I had to write all the food that went in the rubbish, so we weigh the food waste. After seven days for four people it was almost one kilogram." It worked out at around 30 euros, but that is better than the European average, which is about 85 to 90 kilos per year, almost double; add in all the associated costs and it amounts to 143 billion euros per year in the EU.
The Di Salvio family said one way to cut down on waste is to shop every two or three days instead of doing one big supermarket shop per week. In that way people do not buy more than they need and so they end up discarding less.