President of Cyprus re-elected for second term
Comments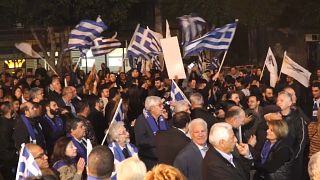 Nicos Anastasiades won a second five-year term as president of the Republic of Cyprus on Sunday as voters made clear they recognised his record in containing an economic meltdown in 2013. In an exclusive interview with euronews, he also made it clear that reunification with Turkish Cypriots is a top priority:
"The security of one, cannot constitute a threat for the other. And the guarantees, the intervention rights of Turkey and the evermore presence of a number of Turkish troops, are things that definitely pose a threat to the Greek-Cypriot community".
Our correspondent spoke to some voters who were hopeful for a better future:
"Let's wish that all Cypriots together," said this man. "Regardless of political beliefs, will be able to bring progress to Cyprus, together with the Turkish Cypriots, because nothing stands between us".
A woman added:
"We want the economy issue to be solved, and we want jobs for the young people, because this is what we need after graduation. We want our country to offer us a more decent life". 
Anastasiades, 71, steered the Cypriot economy to recovery after it was plunged into crisis in 2013, days after he was first elected, by its exposure to debt-racked Greece and by fiscal slippage under a previous left-wing administration.Cyprus emerged from a bailout programme from the European Union and the International Monetary Fund in 2016.
Unlike other austerity programmes, the Cyprus model put most of the painful measures up front, including recapitalising banks by seizing uninsured deposits, a so-called 'bail-in' - used in the eurozone for the first time.
[The headline of this article was updated on 6/2/18 to clarify that Anastasiades is president of the Republic of Cyprus.]