Barnier in UK for Brexit talks amid Tory turmoil on trade
Comments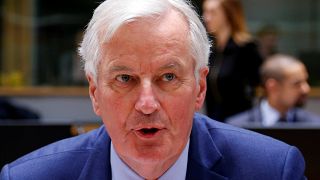 EU chief negotiator Michel Barnier is in London on Monday for the first formal Brexit negotiations since December's interim deal with the UK.
But the talks are being overshadowed by claims of disunity among Britain's ruling conservatives, notably over London's future trading relationship with Europe.
High profile voices in the UK Cabinet have argued for Britain to maintain close trading ties with the EU once it leaves the bloc - raising alarm bells among Brexiteers that that will mean staying in the EU's Customs Union.
But last night Downing Street tried to calm the storm by insisting the UK will leave the Customs Union, meaning it will be able to make its own trade deals with other countries post-Brexit.
Before meeting the UK's Brexit minister David Davis on Monday, Barnier said that there was not a minute to lose in talks on Britain's divorce with the bloc.
"My feeling: we have not a minute to lose because we want to achieve a deal," he told Sky News. 
Later, Davis's negotiating team will meet their EU counterparts in Brussels for the first talks on a transition period, plus how to enforce the divorce treaty and ensure there is no "hard" land border with Ireland.
And following a series of top-level government meetings in London, Prime Minister Theresa May is expected to give details on what kind of free trade agreement Britain actually wants.
with Reuters