Winter carnival celebrations around the world
Comments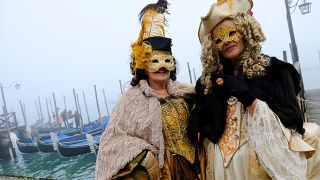 It's Carnival season in Venice and thousands of people gathered in St Mark's Square for the festivities. 
Part of the local tradition is the parade of the Marias, 12 young women chosen to represent the city.
The show is inspired by the kidnapping of 12 brides-to-be in 1039. Captured by pirates, the young women were freed by local residents.
"Venice is unique, and so is the carnival," says Debora Pattarello, one of this year's 12 Marias. The atmosphere at the Feste delle Marie is very relaxed indeed. We are close-knit, the mood is great, with everyone getting involved and having fun".
Celebrations are also underway in Brazil.
Thousands joined a "bloco" on the edge of Copacabana Beach in Rio de Janeiro. The neighbourhood block parties offer an alternative to bigger carnival celebrations.
The world-famous Rio carnival kicks off on Friday and runs until the start of Lent on February 14.