Greeks rally over Macedonia name dispute
Comments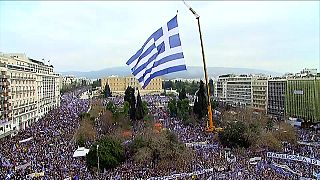 Hundreds of thousands of Greeks have rallied in Athens.
They demonstrated their objection to the possibility of the Former Yugoslav Republic of Macedonia shortening their official name to "Macedonia".
People say that as Macedonia is a Greek region, their Northern neighbours shouldn't be able to use the same name as it implies a territorial claim.
Both governments have stepped up negotiations, mediated by the United Nations to settle the dispute.
But protestors are asking that any agreement with their northern neighbours should be put to a referendum so that the Greeks can have their say.
Organisers claim 1.5 million people attended the rally, but police estimates are far lower at 140,000.