Which European cities have the cheapest—and most expensive—cannabis?
Comments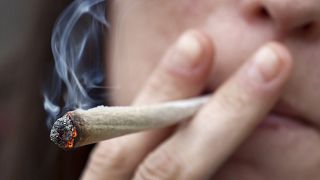 The Irish capital Dublin has the most expensive cannabis in Europe, while Belgium's Antwerp has the cheapest, according to a new index that looks at the cost and consumption of the drug in 120 cities around the world.
A gram of cannabis in Dublin carries a price tag of $21.63 (€17.37), compared to $4.29 (€3.45) in Antwerp, according to the 2018 Cannabis Price Index produced by Seedo, an automatic cultivator device company.
Cannabis is illegal in Ireland, while in Belgium a directive was issued in 2003 allowing for possession of the drug in small quantities to be decriminalised if the individual was over the age of 18, was not a problem drug user or involved in public nuisance.
Of the European Union cities included in the index, Belfast followed Dublin with a cost of $15.81 (€12.70) per gram, and Athens came in third at $14.95 (€12.01).
Spain's Barcelona and Ljubljana in Slovenia followed Antwerp as the cheapest EU cities for cannabis, selling it for $6.23 (€5) and $6.32 (€5.08) respectively.
Out of all 120 cities included in the study, cannabis was found to be cheapest in Ecuador's Quito at $1.34 (€1.08) and most expensive in the Japanese capital Tokyo, where it carries a price tag of $32.66 (€26.24) per gram.
The figures were reached based on prices submitted by cannabis users to crowdsourcing websites.
The index also looked at which cities consumed the most cannabis, with New York topping the list at 77.44 metric tons per year.
It found that British capital consumes more cannabis than any other European city included, with Londoners using 31.4 metric tons each year.
While consumption was high, placing it 7th overall, London was found to be the most expensive of seven UK cities included to buy the drug.
Within the EU, London was followed by the capitals of Spain (16.01 metric tons), Italy (14.82), France (13.69) and Germany (11.64).
Manchester, Barcelona, Prague and Milan also made into the top 10 EU cities in terms of cannabis consumption.
The Greek cities of Thessaloniki and Athens, and Luxembourg City consume the least in the EU, according to the index.