Myanmar: evidence of Rohingya mass graves uncovered
Comments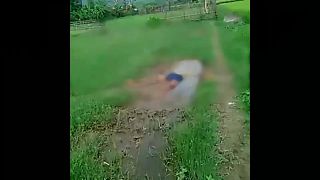 More than five mass graves, containing the bodies of scores of Rohingya villagers, have been discovered in a village in Myanmar, according to the Associated Press.
An investigation by the news agency is said to include multiple witness testimony and time-stamped mobile phone footage of the aftermath of the attacks, believed to have taken place last August.
Survivors say many victims are unidentifiable after soldiers tried to cover up evidence of the atrocity, with video appearing to indicate the use of acid to remove bodies.
Mohammad Karim, who fled Myanmar in December, said: "Some were dumped into rivers, some were buried, some were burnt with acid and turned into skeletons, some were chopped up, some were taken into the paddy fields and dumped there. It was very difficult to determine how many there were.
"I estimate that at least 400 people were killed. At least 10 to 20 infants were also among the dead."
But Myanmar's government has denied any such massacres of the Rohingya, only acknowledging one mass grave which it says contains the bodies of 10 "terrorists".
Since August, more than 620,000 members of the Muslim minority are believed to have fled Myanmar to neighbouring Bangladesh following a military crackdown.