Lactalis baby milk 'tainted for over a decade'
Comments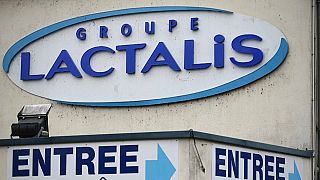 French dairy group Lactalis, which is at the centre of a baby milk scandal, says some of its products may have been tainted for over more than a decade.
In a newspaper interview Lactalis chief Emmanuel Besnier said tests had shown that a factory at the centre of the latest scare, was also responsible for an outbreak in 2005. He said it couldn't be ruled out that babies could have used contaminated milk over this time.
A group representing the victims of the tainted milk say Besnier should step down.
"They have poisoned children with Salmonella for potentially 10 years in more than 80 countries around the world," said Quentin Guiellemain, president of an association for milk victims. "So, Mr. Besnier must take responsibility, we are pushing for his immediate resignation."
Alain Bazot, president of the French Consumer Association, says Besnier is almost presenting himself as the victim:  "He is not assuming responsibility for anything when in fact he has been the head of this factory since 2005. They knew that Salmonella was around the factory since then."
Lactalis has recalled 12 million tins of powdered baby milk in France and around the world after babies were taken ill last year after drinking salmonella-contaminated milk from the Craon factory in north-western France.