Meet the snipers deployed to solve Tehran's rat problem
Comments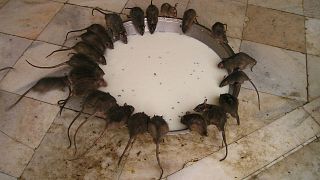 Authorities in Iran's capital employ men with air guns to patrol rat-infested areas and shoot any vermin they come across.
The population of rats seems to be exponentially increasing in Tehran, despite various government initiatives to curb it.
Rats can give birth to 6-12 babies per litter and are able to get pregnant three to five times a year on average.
Some of the rodents that can be seen scuttling up the sides of the open sewer are even the size of a small cat.
One of the main problems is the amount of litter strewn around the streets, as well as a series of streams running through the city and restaurant throwing their waste into the water.
The team of "snipers" combs the sewers every night and find around 10-15 rats in a single district.
"When we started out the plan (in the early 2000s) we would pay 1000 Tomans (about 22 centimes) for every rat killed with air guns. The result was great. We had many volunteers who gave us about 200 to 300 rats every night and we paid them the cash as prize or wage," said Hassan Khodabakhsi, head of District 6's sniper team.
He said the municipality no longer needs to rely on volunteers thanks to the permanent teams they have in place.