British Prime Minister Theresa May leads trade delegation to China
Comments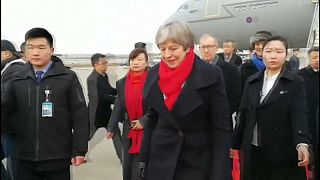 -
British Prime Minister Theresa May has arrived in China bringing a large trade delegation of over 40 companies with her as well, of course, as some Brexit baggage.
On Wednesday she insisted that the British parliament would get to analyse the final Brexit deal before voting on it.
Questions meanwhile are again being raised about how long she can stay in power leading a government that is still very divided over Brexit.
According to some British newspapers, up to 40 Conservative MPs want May to be replaced. And according to the rules of the ruling Conservative Party once that number reaches 48, it's enough to trigger a vote of no confidence in the prime minister.
However the deal to leave the EU pans out and whichever leader presides over it, Britain will need to strike a post-Brexit trade deal with China.
Trade between the two is currently valued at 68 billion euros, but analysts say Britain would be a more valuable partner to China wthin the EU than outside of it.
And after meeting May in Beijing's Great Hall of the People on Wednesday, Premier Li Keqiang insisted that China's relations with Britain will not change because of changes in British-EU relations.
May says she'll also raise human rights during her three day trip.
China has become increasingly authoritarian under President Xi Jingping, and there's a harsh crackdown on political freedoms in Hong Kong.