Filipinos watch and wait as Mayon volcano spews lava and ash
Comments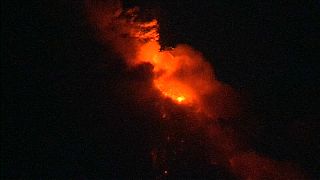 More than 100,000 people in a five-mile danger zone around the volcano in northeastern Albay province have been evacuated to emergency shelters.
The levels of falling ash have begun to decline just outside the zone, allowing authorities to re-open some schools.
But officials are repeating warnings that heavy rainfall may combine with the volcanic ash to form deadly mudslides called lahars.
Hundreds of medical staff remain deployed, along with 800,000 dollars in aid for the displaced.
Not everyone has obeyed the authorities, though. Some risk-taking farmers are refusing to move and continue to work in their fields and tend to livestock.
In 2013 five climbers were killed by falling ash as they defied warnings in a bid to climb Mayon.