Paris river surges to record levels as heavy rainfall threatens flooding
Comments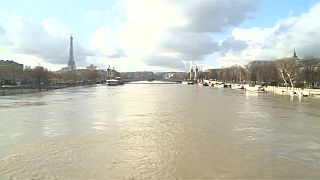 A mere 18 months after the Seine rose to its highest level in nearly 35 years, Paris is again on high flood alert.
Already way above normal after weeks of heavy rain, the river is predicted to surge this weekend peaking at around six metres.
Boat traffic has been interrupted and roads along the Seine's banks remain closed.
In the south of the French capital, dozens of riverside buildings have been inundated by water, cutting power and forcing around 1000 people to evacuate.
"There has been a power blackout since Wednesday. We cannot heat ourselves because generally the heat is supplied by electrical power," said Georgina, who lives in Villeneuve-le-Roi.
"Even if it is a gas boiler, it cannot be lighted. We cannot use the refrigerator, the washing machine, and we have no hot water for bath. We had this problem in 2016, now it is happening again in 2018".
But the flooding is not just confined to Paris. Water levels in the southern city of Lyon remain unnervingly high.
Thirteen of France's 96 adminstrative departments are on flood alert, with experts claiming it is the country's wettest winter since 1959.