Albania: thousands take part in anti-government protests
Comments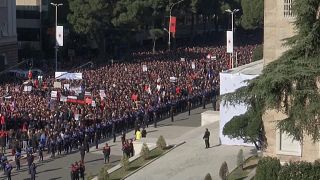 In Albania, thousands of opposition supporters have hit the streets of Tirana calling on the government to resign.
They accuse Prime Minister Edi Rama's administration of corruption and links to organised crime.
The huge anti-government rally saw opposition leaders and activists gather along the capital's main boulevard.
Albania, a NATO member since 2009, hopes to launch EU accession talks this year.