Unusual snowfall blankets Saudi Arabia's Tabuk region
Comments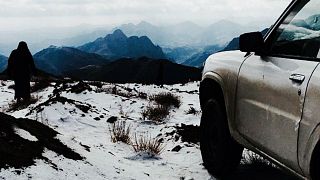 Copyright

Jameel al-Atwi via Storyful
The Middle East has not escaped the chilly conditions experienced by much of the northern hemisphere with snowfall blanketing Saudi Arabia's mountainous Tabuk region.
Home to the Al-Lawz mountain, a 2,580-metre peak, the northwestern area of the country occasionally sees fleeting snow that often melts away in a matter of hours.
Nevertheless, a snow-covered desert is a sight to behold, attracting locals and visitors. Many took to social media over over the last two days to share videos and photos.