Snow falls in the Sahara Desert
Comments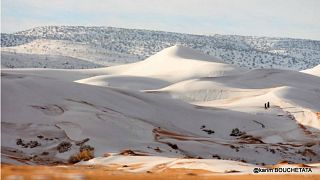 A blanket of snow fell in the Sahara Desert on Sunday, delighting locals.
It marks just the fourth time the weather phenomenon has occurred in the area in 37 years.
The town of Ain Sefra in Algeria is known as the gateway to the Sahara—the hottest desert in the world.
A rare bout of icy weather brought the powdered snow but the sight didn't last long, as rising temperatures melted the snow during the day.
TSA Algeria reported that just over 40 cm of snow fell, starting in the early hours of the morning and that it began to thaw after 5 pm local time.