Bocuse funeral draws huge crowd to Lyon
Comments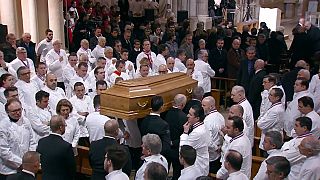 Clad in their working whites, around 1,500 chefs from around the world gathered in the French city of Lyon to honour their culinary "pope". 
Paul Bocuse died last Saturday at the age of 91.
In attendance at the St Jean Cathedral were French chefs Alain Ducasse, Bocuse's protégé, Joël Robuchon and British chef Gordon Ramsey.
One of the earliest celebrity chefs, he understood the value of image and publicity.
His restaurant got its three Michelin stars in 1965 and never lost a single one.
In Lyon, a market was named after him, selling everything fresh and French – an homage to a man who tirelessly promoted French cuisine to the world.
Paul Bocuse was the man who took the cook out of the kitchen, starting the practice of being among his guests.