Bearing up: black bears re-released after holistic treatment for burns
Comments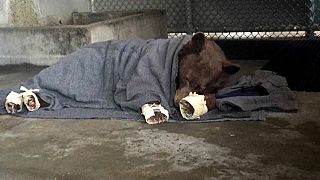 Two black bears have been released back into the wild following some unusual treatment in the wake of southern California's largest wildfire in recent history.
Getting them back to the wild is vital

Veterinarian
The adult females and a five-month-old mountain lion had fish skin stitched to their poorly paws after their vet realised one of the bears was pregnant and would need to be released into the wild as soon as possible.
"Getting them back to the wild is vital because we don't want them to get used to being around people", said Dr Peyton.
Their burnt extremities were then bandaged in rice paper and corn husks to boost healing.
Dr Peyton likened it to wrapping their paws up like "little spring rolls". The lion appeared to agree – it finds its bandages a little too tasty and has yet to be released.
The bears suffered third degree burns on all of their paws, forcing one of them to lie down continuously at the beginning of its recovery due to the intensity of the pain.
Acupuncture, chiropractic care and transcutaneous electrical nerve stimulation were also administered in the first-of-its-kind treatment in the US.
The procedure could give hope to future burn victims, but that's likely to be the last thing on the bears' minds as they settle down for a well-deserved rest in the wild.