Baboons on the loose at French zoo
Comments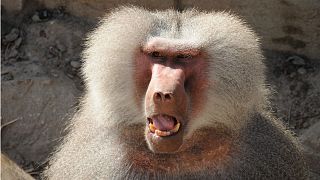 Paris Zoological Park has reopened after four escaped baboons went on the run.
Initial reports said 50 of the animals escaped for "a couple of hours". However, a zoo spokesman told Euronews that only four remained on the loose.
"Four baboons escaped into an area not accessible to the public and remain outside their enclosure, the rest of the 50-strong group returned to their enclosure," he said.
While the animals remained at large they were kept track of and veterinary staff were called in to try and recapture them.
The zoo was evacuated as a precaution and there was no danger to members of the public. 
After spending most of the night eluding their captures, the baboons were all caught and taken back to their enclosures just after 4am. 
Tweet 1
"Following the escape of #baboons from the Big Rock enclosure, the situation is under control. The entire group returned to their enclosure, except four, which are in sight. We will keep you informed of the situation."
Tweet 2
"More information around 6 pm."