Erdogan vows to expand Syria operation
Comments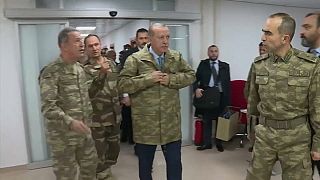 President Recep Tayyip Erdogan has promised to sweep militants from the length of Turkey's border with Syria.
Erdogan says Ankara could extend its current military operation in northwest Syria all the way east to the border with Iraq.
Since the start of the incursion, dubbed "Operation Olive Branch" by Ankara, Erdogan has said Turkish forces would continue east to Syria's Manbij.
This could potentially bring it into confrontation with US soldiers positioned there.
**The context **
Turkey's offensive in Syria's Afrin against the Kurdish YPG militia, which it views as a security threat, has opened a new front in the multi-sided Syrian civil war. It has also further strained ties with NATO ally Washington.
Any push by Turkish forces towards Manbij, part of a Kurdish-held territory around 100 km east of Afrin, could threaten US efforts in northeast Syria.
On Thursday, Turkey urged the US to halt its support for YPG fighters or risk confronting Turkish forces on the ground.
Turkey has said the US has proposed a 30 khm "safe zone" along its border with Syria. However, Foreign Minister Mevlut Cavusoglu says trust between the two countries needs to be reestablished first.
A difference of opinion over the YPG
Ankara considers the YPG to be an extension of the outlawed Kurdistan Workers' Party (PKK). It has waged a three-decade-long insurgenc in Turkey.
Washington sees the YPG as an effective partner in the fight against ISIL in Syria, a stance that has infuriated Turkey.
What they are saying
"Operation Olive Branch will continue until it reaches its goals. We will rid Manbij of terrorists, as it was promised to us, and our battles will continue until no terrorist is left until our border with Iraq," - Recep Tayyip Erdogan.