35 years of the Sundance Festival and sales are down
Comments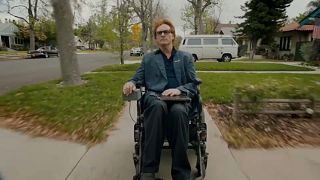 The word has it that this year's Sundance Film Festival has been grey like the weather, with frustrated buyers and only one eight-figure deal reported, 10 million dollars for "Assassination Nation".
Distributors have voiced doubts about the mainstream crossover potential of much of the fare on offer, with only three other movies getting big-money deals, "Puzzle", "Blindspotting", and Kiera Knightley's new period piece, "Colette" which snapped up four million for its US rights. Director Wash Westmoreland says he got financial backing where others failed because "Colette" carries a timely message.
"It's a European period piece and it's premiering at the heart of the American indie scene. And that's because of the message that it had from a woman who lived 100 years ago is completely relevant to today," he said.
Notable absentees have been Netflix and Amazon who spashed big in 2017 but who did'nt sell a single movie this year. Gus Van Sant did, and Joaquin Phoenix's performance in "Don't Worry He Won't Get Far On Foot" is being flagged as tremendous.
Co-star Jack Black is clearly admirative.
"There he is. He's right there. Do you see him?" he joked on the red carpet as Phoenix posed for photos behind him. "He's like an actor whisperer. It's like I'm the horse and he just whispers the performance out of me," said Black.
Van Sant spent 20 years developing the story with its subject, Portland-based cartoonist John Callahan, who died in 2010.