France braces amid orange flood warnings
Comments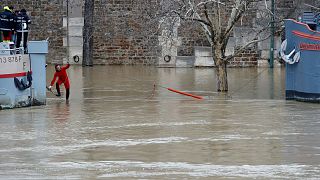 The national weather agency for France put 30 departments on orange alerts for flooding on Tuesday morning.
This is the second highest alert and means citizens are advised to "be very vigilant" of the risk brought on by dangerous weather.
While the Seine in the capital looked set to hit the 5.7-metre mark, riverside walkways in the southeastern city of Lyon were completely submerged.
COO of Lyon City Boat, Delphine Depierreux, a tour company operating on the Saône, one of the city's two rivers, told Euronews how employees at their riverside offices had to use rowing boats to get into work this morning.
She said flooding like this hasn't been seen in the city since 2001.
Staff at the company were checking boats' moorings frequently to adjust their tension and avoid "any boats ending up on the riverbank".
One reason for the flooding is the heavy rain that most of France experienced over the last few days.
In addition to Paris, Normandy, the south-west and large parts of the east are among the worst-affected areas.