Cape Town faces end to home-piped water in April as drought crisis deepens
Comments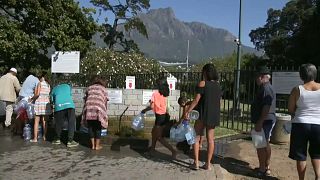 With bone-dry rivers and in the grip of the worst drought in a century rationing may have come to late to save the South African city of Cape Town, which may run out of water by April 12.
The worst of the country-wide drought induced by el Niño ended with the summer rains, but the Cape gets most of its rainfall in winter, and forecasts give no guarantees the rains will be on time.
Currently at 87 litres per person per day, designated standpipes are springing up on street corners, and consumption will be cut to 50 litres on February 1, and what the authorities are calling Day Zero in April will see all other piped water cease.
There are already fears installed standpipes will not be able to cope.