Save the Children suspends Afghan operations after Jalalabad attack
Comments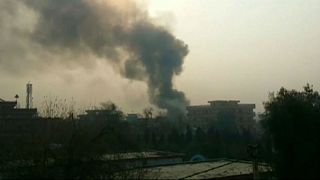 Save the Children has closed its offices in Afghanistan and temporarily suspended operations in the country following an attack on its office in Jalalabad.
Militants stormed the international aid group's compound in the eastern Afghan city, and fought security forces who surrounded the building.
Isil have claimed responsibility for the attack.
At least three people are said to have been killed, and 20 injured. It's not clear if two of the dead were attackers or civilians. 
A member of the security forces was also killed.
There have been conflicting reports about the attack. Earlier, a local government spokesman said the siege was over after a three-hour battle.
However, the NGO said later that the security incident was "still ongoing".
Announcing the suspension of its operations, Save the Children said "we remain committed to resuming our operations and lifesaving work as quickly as possible, and as soon as we can be assured that it is safe to do so".
ISIL make unsubstantiated claim
The self-proclaimed Islamic State group has claimed it carried out the attack, according to the militant group's news agency Amaq, without providing immediate evidence.
Amaq said the operation involved a car bomb and three other attacks targeting British, Swedish and Afghan government institutions in Jalalabad, without providing further details.
Earlier, the Taliban issued a statement denying involvement. Jalalabad, near the border with Pakistan, is often the target of militant attacks and is a strong ISIL base.
The attack is said to have begun with a suicide car bomb outside the office, before gunmen burst into the compound and fought with Afghan security forces.
Some witnesses said there appeared to have been at least four attackers in police uniform, a commonly used tactic, but there was no immediate official confirmation.
"An explosion rocked the area and right after that children and people started running away," said Ghulam Nabi, who was nearby when the bomb exploded. "I saw a vehicle catch fire and then a gunfight started."
There are several other aid groups and government offices in the immediate area, and security forces evacuated people from surrounding buildings while they exchanged fire with the militants.
"We are devastated at the news that our Save the Children office in Jalalabad city, Afghanistan, came under attack this morning as armed men entered the building, about 9am today local time," a Save the Children spokesperson said in a statement.
Afghan forces, backed by US air strikes, have claimed growing success against militant groups, but attacks on civilian targets have continued, causing heavy casualties.
The attack in Jalalabad comes days after Taliban militants attacked the Hotel Intercontinental in the capital Kabul, killing at least 20 people including 13 foreigners.