Why has Afghanistan seen so many attacks in the last week?
Comments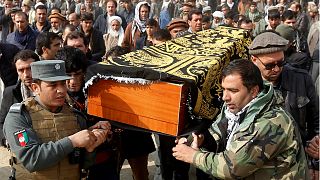 Afghanistan saw a spate of attacks in the last week that caused hundreds of casualties.
Civilians bore the brunt of an increased offensive in Kabul, which in one case saw Taliban militants drive an ambulance packed with explosives through a security checkpoint and detonate it in the heart of the city, killing 100 people and wounded at least 235.
In the eastern Afghan city of Jalalabad, militants from the so-called Islamic State (ISIL) stormed the office of international aid agency Save the Children, killing two and wounding at least 12 others.
What has led to this surge in activity by militant groups? Euronews asked Co-director and co-founder of the Afghanistan Analysts Network Thomas Ruttig and Claudio Franco who has written for the network.
ISIL's increased activity
Ruttig told Euronews that new groups linked to ISIL are participating in this wave of attacks.
The Taliban is also divided into four factions, with the "Pakistani" Taliban declaring their allegiance to ISIL, who are "fighting to get into the Afghan arena, and another faction fighting to keep their new competitors out.
Competition between ISIL and the Taliban
ISIL and the Taliban are both carrying out attacks in Kabul and could be trying to outdo each other, according to Ruttig.
"Competition might be part of what's happening," he said, at the cost of the Afghan civil population.
Both groups have to justify backing from their donors so must show that they are active.
Franco added that "there is a rivalry" between the two groups, which started with a battle for territory and has now moved on to a fight for resources and men, with the ISIL buying the Taliban's men, as they can pay double their salaries.
Pakistani government's involvement
"Everyone knows that the Taliban are operating from Pakistani territory," said Ruttig, "so the public denials are not really convincing".
He says that Pakistan has shown previously that when they are criticised internationally it has reacted by means of the Taliban.
"Pakistan really needs to look in the mirror and acknowledge it has a key role in Afghanistan, also in supporting the Taliban," he said.
US withdraws aid to Pakistan
Franco sees the hike in attacks as a direct result of the reduction of US aid to Pakistan, the moment at which he says "all hell broke loose".
"It's clear this is a direct message which is a result of the reduction if not cut in US military aid to Pakistan."
He sees an attack on December 27, 2017, as a "last message," followed by a series of "atypical" attacks in areas where the number of victims could be maximised—previously the Taliban did not always appear to use techniques that maximised civilian or Afghan military casualties.
The four previous attacks, according to Franco, including the ambulance attack, were all aimed at striking those who deal with the international community.
He believes the Haqqani network, an Afghan guerilla insurgent group, is being used as a proxy by Pakistan, as they are able to get into Kabul.
The de-facto autonomous network is based in both Pakistan and Afghanistan and is and is formally part of the Taliban and still ideologically aligned with them in wanting to eradicate Western influence and transform Afghanistan into a strictly Sharia-following state.
How could the conflict in Afghanistan be resolved?
Many outside the country think that the only way for peace to be restored would be for the government in Kabul to negotiate with the Taliban.
Ruttig is of this belief and sees the situation becoming more stable through "political regulation in Afghanistan" between the government and Taliban.
He saw 2017 as a "lost year" because the government refused to speak to the Taliban.
Both sides have, however, declared they are interested in negotiations, so they need to "step forward, find common ground and start talking to each other because meanwhile people are being killed," according to Ruttig.
Franco said external factors, like Iran and Pakistan and their relations, must be addressed to achieve peace.
The problem of insurgency in Afghanistan would be impossible to address if you don't seal the borders, with militant groups "melting" across the country's borders where they have "everything they need to fight another day," as soon as the tactical situation is not ideal, according to Franco.
"If you don't remove these foreign factors we will never have what we want for the country: Economic development, good education etcetera."