Alaska earthquake sparks brief tsunami fears along US west coast
Comments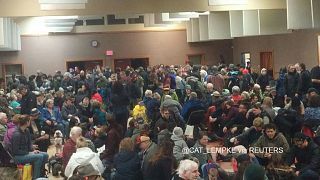 -
A magnitude-7.9 earthquake struck the Gulf of Alaska early on Tuesday, prompting authorities to warn of a possible tsunami in the area and all the way down the US west coast, where the alert was later lifted.
In Alaska, people packed into high schools and other evacuation centres after the quake hit shortly after midnight local time (0900 GMT).
Officials had warned residents as far south as San Francisco to be ready to evacuate coastal areas but later lifted tsunami watches for California, Oregon and Washington states as well as coastal British Colombia in Canada.
In Alaska, where a tsunami advisory remained in place as of 3:12 a.m. local time (1212 GMT), residents gathered in shelters on Kodiak Island, the closest land point to the quake, which struck around 250 km southeast of Chiniak, Alaska, at a depth of 25 km, according to the U.S. Geological Survey.
There were no immediate reports of injuries or damage from the quake, which was initially measured at magnitude 8.2.
Long lines of traffic formed in coastal communities including Homer and Seward, Alaska, residents reported on social media.
San Francisco's Department of Emergency Management briefly warned residents within three blocks of the Pacific Ocean or five blocks of San Francisco Bay to prepare to evacuate. That warning was lifted when the tsunami watch was lifted.
An initial tsunami watch for Hawaii was also cancelled. Japan's meteorological agency said it was monitoring the situation but did not issue a tsunami alert.
With Reuters