Pence lays blame on Democrats for shutdown
Comments
By Andrea Mitchell and Phil McCausland with NBC News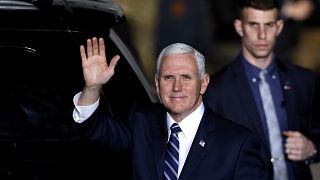 Copyright

Abir Sultan EPA

-
JERUSALEM — Vice President Mike Pence met with U.S. troops in the Middle East on Sunday, and scoring points against Democrats on the shutdown was top of mind.
Though it is considered unusual for the president or vice president to attack the opposition party while speaking to members of the military, Pence took the opportunity to place the blame for the stalemate in Washington squarely on Senate Democrats.
"Despite bipartisan support for a budget resolution, a minority in the Senate has decided to play politics with military pay," he told the troops. "But you deserve better. You and your families shouldn't have to worry for one minute about whether you're going to get paid as you serve in the uniform of the United States."
In an exclusive interview with NBC News, Pence expanded on his speech to the troops.
The vice president said Democrats in the Senate needed to "step up," and added that he and President Donald Trump were working hard to find a solution — but emphasized that the Democrats are solely responsible for short-changing the military in this political crisis.
"It was the Democrat leadership and vast majority of Democrats in the Senate that decided to say no to government funding," he said. "So now we literally have some 100,000 National Guard in reserves waiting to go home for the weekend to train, we have 2 million men and women in uniform who are not getting paid as we speak, we have 50,000 civilian personnel who are going to be furloughed from supporting our military — that is just unacceptable."'
Related: Day 2 of shutdown begins with blame, not bargain
Pence is currently visiting Egypt, Jordan, and Israel, a trip he had to postpone in December after an uproar among Palestinian and Arab leaders over Trump's Dec. 6 decision to move the U.S. Embassy in Israel to the disputed city of Jerusalem.
Earlier on Sunday, in Jordan's capital, he met with King Abdullah II, who warned him that the embassy move could lead to further instability in the region.
Official sources tell NBC News the king was also angry about recent massive cuts by the State Department in aid to Palestinian refugees. Pence attempted to reassure the monarch that the U.S. remained committed to peace talks between Israel and the Palestinians, but their leaders say they no longer consider the United States an honest broker because of the pending embassy move.
But in his interview with NBC News, Pence defended Trump's judgment.
"We understand that our allies and friends in the region might have a difference of opinion on that," Pence said about the move. "King Abdullah today, with President Al Sisi yesterday, we talked and we agreed to disagree, but what we agreed on was a commitment to peace."
"And President Trump sent me here not only to reaffirm his decision about recognizing Jerusalem as the capital of Israel but to reaffirm our commitment to the peace process," he added.
Pence traveled to Israel Sunday night, even as conflict between Turkey and U.S.-backed Kurdish forces in Syria is exploding.
Turkish troops attacked a Kurdish-controlled area in North Syria on Saturday in an attempt to expel U.S.-allied Kurdish militia from the region.
"We encourage Turkey to deescalate their military actions that have taken place along their border, northern border, of Syria," Pence told NBC News. "We truly believe the focus in Syria now should be on defeating ISIS and working with our coalition forces."
Before Pence traveled to Israel, he also said ongoing negotiations between North and South Korea and their agreement to march at the Olympics under a single flag are a positive step. Asked if the South Korean moves toward the North could undercut the president's hard line toward Kim Jong Un, he said to the contrary — that the Olympic talks were a result of the president's direction.
"The leadership that President Trump has provided, the pressure that we placed on North Korea is exactly the reason that the Kim regime is reengaging," Pence said.
Andrea Mitchell reported from Jerusalem. Phil McCausland reported from New York.