Gymnastics culture is rotten to the core. Larry Nassar is just the beginning.
Comments
By Joan Ryan with NBC News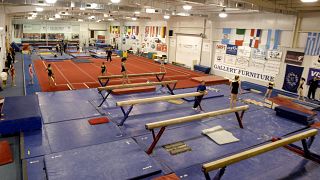 Copyright

Bob Levey Getty Images for Hilton

-
The email arrived last week as I knew it would: A request for an interview. It happens every time the sick secrets of women's gymnastics slip back out into the world.
In 1995, I wrote a book that detailed the culture of abuse in elite gymnastics: the broken bodies and psyches, the tunnel-vision parents, the manipulative coaches, the enablers at the national federation. The young women told me of training with fractured bones, cutting themselves to deal with the pressure, attempting suicide after falling short of Olympic glory, starving themselves to stay rail thin. One anorexic former gymnast weighed 65 pounds when I interviewed her by phone; she died two months later.
The book drew widespread media coverage. Suddenly, the systemic child abuse occurring throughout elite gymnastics was out in the open. After first denouncing allegations as the exaggerations of failed gymnasts, officials at USA Gymnastics (known then as the United States Gymnastics Federation) eventually introduced new policies and practices they said reinforced what has always been their top priority: the safety of their athletes.
And yet, 23 years later, it seems nothing has changed. The culture of elite women's gymnastics is as corrosive, secretive and indifferent to the athletes' well-being as it has always been. Last week, when dozens of girls and young women appeared, one after another, in a Michigan courtroom to accuse a USA Gymnastics doctor of sexually abusing them, the federation issued a statement that included this sentence: "We are focused on further developing a culture that has safe sport as a top priority throughout the organization.''
The only response is fury.
The culture of elite women's gymnastics is as corrosive, secretive and indifferent to the athletes' well-being as it has always been.
It would seem unfathomable that all these gymnasts, over the course of more than two decades, could be repeatedly violated without a single adult being able to stop it. How could this happen?
I learned exactly how back in 1994 during an afternoon with Bela Karolyi at his gym in North Houston. The famed coach's comments crystalized for me just how abuse was able to flourish throughout elite gymnastics. In his jovial, effervescent style, Karolyi waved away gymnasts' recollection of life in his famous gym. I presented dozens of specific instances of abuse, from routine belittlement, humiliation and rejection to severe eating disorders and debilitating injuries. Never happened, he said over and over. But so many girls say the same thing, I said. He dismissed them as liars looking for someone to blame for their own failures. (Indeed, the Karolyi's have consistently denied abuse allegations in the past.)
He was breathtakingly convincing. I understood why girls would run through walls for him. And why he was able to destroy them. He groomed his gymnasts — and their parents — to accept his version of reality. The girls came to understand that their own experiences didn't matter. Bela would tell them if they were in pain or not. He would tell them if their bodies were disgusting or not. He would tell them if they were weak or not. If a gymnast was going to be part of Bela's reality, she had to deny her own.
This is also how USA Gymnastics doctor Larry Nassar got away with his abuse. (Nassar has already pleaded guilty to seven sex crimes as part of a deal with prosecutors.) In the warped culture of elite gymnastics, girls are made to believe they have no say over their own bodies. Their hunger is dismissed. Their pain is dismissed. Their fear is dismissed. When they do speak up, coaches and officials convince them they're mistaken. You don't understand that pain, hunger and fear are the normal price you pay for greatness, they say. And: You don't understand the difference between sexual abuse and a medical exam.
But they do understand, and now they're talking. As Aly Raisman said in her victim's statement last week: "The tables have turned. We are here. We have our voices and we are not going anywhere."
Today, as Nassar's alleged victims continue to testify against him in a Michigan courtroom, three top executives from USA Gymnastics, the national governing body for the Olympic sport, resigned. Board of directors Chairman Paul Parilla, Vice Chairman Jay Binder and Treasurer Bitsy Kelley stepped down under heavy pressure; former president and chief executive Steve Penny was pushed out last year.
These brave women are exposing the rot at the core of their sport. Only their voices and their truth can drive it out. And for the first time in 23 years, I have hope for real change.
Joan Ryan is the senior media advisor to the San Francisco Giants, one of the first female sports columnists in the country and the author of "Little Girls in Pretty Boxes: The Making and Breaking of Elite Gymnasts and Figure Skaters'' (1995, Doubleday), "Shooting From the Outside'' with Tara Vanderveer (1997, Avon), "The Water Giver" (2009, Simon & Schuster), "Molina'' with Bengie Molina (2015, Simon & Schuster) and "The Clubhouse: In Search of the Science and Soul of Team Chemistry'' (2018, Little, Brown).