Court shuts down Navalny election fund
Comments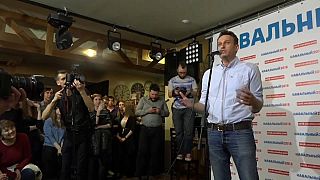 A Moscow court has ordered the closure of a foundation which supported the election campaign of Russia's leading opposition politician Aleksei Navalny.
The foundation, was used by Navalny to collect donations to finance his drive against corruption and the workings of the Kremlin under President Putin.
The Justice Ministry said the foundation had listed a wrong address, was illegally spending money on Navalny's presidential campaign and violated a law regulating the use of personal data.
At the end of December, Russian election officials barred Navalny from running in the presidential election scheduled for March, citing his suspended sentence in a fraud case that he and his supporters have denounced as politically motivated