Bomb in Thailand's southern province kills 3, wounds at least 18 says security official
Comments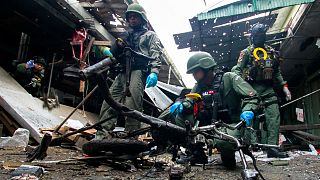 Copyright

REUTERS/Surapan Boonthanom
A bomb has gone off in a market in Thailand's southern Yala province on Monday (January 22), killing 3 people and injuring 18 said a spokesman for the Internal Security Operations Command (ISOC).
The ISOC is a government security force that operates in the region.
"The criminals put a bomb in a motorcycle and placed it next to a market cart. The force of the explosion caused 3 people to lose their lives," said ISOC spokesman Pramote Prom-in.
No group has claimed responsibility for the attack. 
Thailand's southern regions of Narathiwat, Pattani, and Yala have a history of long-running insurgencies by the ethnic Malay Muslim population who want autonomy.
The region, however, had not experienced such a deadly attack in a while.
Analysts who monitor the conflict say the attacks fell to a historic low in 2017 despite talks between the Thai government and rebel groups stalling.
Resistance to Buddhist rule in the predominantly Muslim provinces resurfaced violently in 2004.