Democrats and Republicans play the blame game
Comments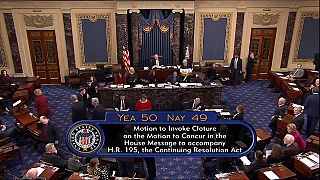 In the fallout following the shutdown of the US Goverment after a failure to agree on a spending bill,
Vice-President Mike Pence was unequivocal as to who was to blame:
"Democrats in the Senate, with a few exceptions on either side, chose to put politics ahead of our national defense. They chose politics ahead of meeting the obligations of our national government and that's just unacceptable and its disappointing."
Senate majority leader Mitch McConnell said the democrats were cycnical and playing politiall games: 
"What we've just witnessed on the floor was a cynical decision by Senate Democrats to shove aside millions of Americans for the sake of irresponsible political games," McConnell said.
Leader Chuck Schumer pointed the finger squarely at President Donald Trump who himself tweeted that
"Democrats are far more concerned with illegal immigrants".
Julie Pace, Washington Bureau Chief at AP said: "Trump is marking his one-year anniversary of the inauguration with a government shutdown; that's not a good thing for any president. What we really are looking for from Trump right now is how much he's willing to dig in: Is he willing to let a shutdown go for a week? Two weeks? 
"We saw a 16-day shutdown in the Obama administration – that's a really long period of time for government employees to furloughed, for access to national parks to be restricted"
Although past government shutdowns have done little lasting damage to the US economy, they can rattle financial markets and undermine the United States reputation abroad.