Angela Merkel is bolstered by unity message on Bulgaria visit
Comments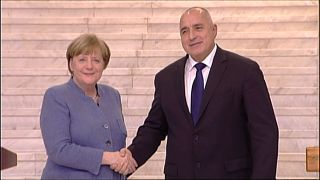 Currently presiding over the EU, Bulgaria invited German Chancellor Angela Mekel for a visit on Saturday, and Prime Minister Boyko Borisov was fulsome in his praise for Germany's aid in building a new gas hub, protecting Bulgaria's border, and fianancing new roads, railways, and ports in the western Balkans he said would aid regional connectivity and development, and ensure more young people stayed in Bulgaria.
Merkel also had gratitude to express:
"I would like to thank Bulgaria for the way it protects its external border, this task is terribly difficult, especially at the Bulgarian-Turkish border. Germany supports Bulgaria, Frontex supports Bulgaria with words and actions, but the hard work has to be carried out here," she said.
Merkel also thanked Borisov for his initiative, along with the President of the European Council, the President of the European Commission and the President of the European Parliament, to meet with Turkey's president to address unresolved issues.