Pope in Chilean sexual abuse cover-up row
Comments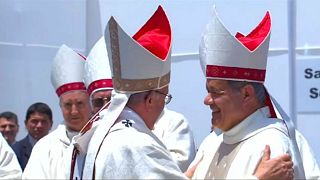 It was a friendly hug, but for survivors of sexual abuse at the hands of Chile's most notorious paedophile, the head of the Catholic Church might as well have lobbed a grenade.
"Our struggle is against the sexual abuse, the cover-up, the psychological abuse, and the silence over these abuses."

Sexual abuse survivor
They're angry at the Pope's refusal to condemn Bishop Juan Barros, who they say covered up the abuse they suffered.
Speaking to a reporter he said: "The day that they bring me proof against Bishop Barros then I'll speak. There is not one [bit] of proof against [Barros]. All of it is slander. Is that clear?"
His remarks shocked Chileans, particularly because they came during the course of a visit intended to heal the wounds of a scandal that has cost the Church its credibility in the country.
Proof available for years
At a hastily convened press conference, three survivors of the Reverend Fernando Karadima's abuse spoke out against this silence.
Juan Carlos Cruz said:
"Pope Francis wasted a great opportunity to listen to the community of Osorno, and those of us who've affirmed that Bishop Barros had covered up Karadima's abuses, having seen proof of them, which we've been providing for years."
James Hamilton added :
"It's unacceptable what Pope Francis has said about our cause and our struggle, which is that of all those who have been abused."