Pope defends native Amazonian peoples
Comments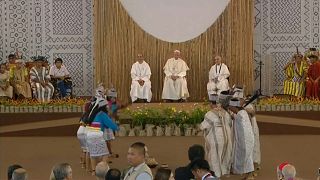 "Big business and consumerist greed cannot be allowed to destroy a natural habitat vital for the entire planet," said Pope Francis on Friday when he met the people of the Amazon at a football stadium in Peru.
He also railed at the sexual enslavement of Amazon women, insisting on the predicament of Latin America's native peoples everywhere.
"The native Amazonian peoples have probably never been so threatened on their own lands as they are at present," he said.
Indigenous tribes previously with little or no contact with the outside world are feeling the pressure of farming, which continues to shrink the Amazon at an alarming rate.
Contact with the outside world exposes them to disease, violence and exploitation.
"No, violence towards women cannot be naturalised, supporting a culture of machismo that does not allow for women's leading role within our communities," said Pope Francis.
However, development in the Amazon continues apace and it is hard to see how the Pope's words could change that.