Girl in critical condition after axe-wielding boy goes on rampage in Russia
Comments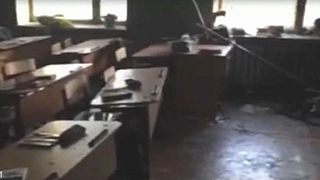 An axe-wielding teenager injured five children and a teacher during an attack at a school in Russia, officials say.
He also set fire to the classroom before trying to kill himself, according to the Investigative Committee of Russia.
One 11-year-old girl is in a critical condition with a head injury, while another had to have two fingers amputated.
The attacker, who's motives are unclear, was taken to hospital and an official enquiry has been launched.
The attack, which happened on the outskirts of Ulan-Ude in a region near the Russia-Mongolia border, was the country's second such incident in a week.
Aleksei Volin, from Russia's Communications and Mass Media Ministry, said authorities were looking into whether there is any link between the incidents.
The latest bloodshed came four days after 12 people were injured at a school in Perm — a city 1,200 kilometres east of Moscow — after two masked teenagers went on the rampage in a pre-planned knife attack.