Fighting worsens in Central African Republic
Comments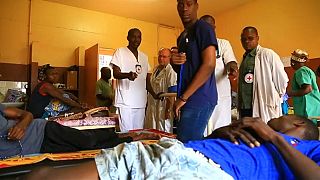 -
After five years of conflict a fifth of the population has fled their homes and the ICRC say half the population needs humanitarian aid.
One woman in the capital Bangui described how she was caught up in the fighting.
"I was in Alindao when the violence started and I had to flee, when I came back, gunmen captured me, they beat me with a machete and my son too," Cecile said.
The crisis is most acute in the north west of the country where more than half the population has been displaced.
"The problem today is that it is an atypical conflict, since it is a closed-door conflict where people are apparently injured, killed in the bush. Those who didn't reach Paoua in time disappeared in the bush, probably killed," Jean Ospital, the Doctors Without Borders coordinator in the city of Paoua said.
According to the UN, more than 60,000 have arrived in just 15 days in the city of Paoua.
The fighting erupted between two groups trying to control lucrative road checkpoints where large herds of cattle pass through on their way to neighbouring Chad - and whoever controls the checkpoints can demand money from the herdsmen.
Aid workers say they've had to halve food aid rations and, in some places, stop it altogether, despite widespread malnutrition among children under five.