Police chase wallaby across Sydney Harbour Bridge
Comments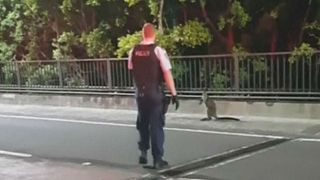 A cheeky wallaby led police on a chase along Sydney Harbour Bridge this morning, stopping rush-hour traffic as it went.
In footage released by authorities, the macropod can be seen hopping along the famous landmark at dawn, with police in hot pursuit.
After eventually being caught, the wallaby was taken to Taronga Zoo for a veterinary assessment where it is recovering in an intensive care hospital enclosure.
Taronga Zoo's senior veterinarian, Larry Vogelnest, said the animal didn't have any significant injuries but has received pain relief and been put on a drip.
"It has some minor grazes on its face and its hind legs and I took some x-rays, x-rayed its whole body to rule out any fractures and things like that," he said.