EU's fight against plastic waste: What does it all mean?
Comments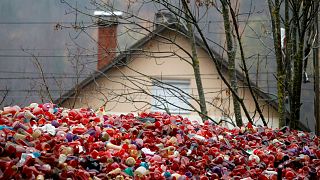 Copyright

REUTERS/SRDJAN ZIVULOVIC
The European Union plans to reduce plastic waste with a new strategy that focuses on turning each piece of plastic reusable or recyclable by 2030.
But what does the strategy entail?
With its new action plan, the EU seeks to reduce single-use plastics, restrict the use of plastic particles that damage the ocean's environment, curb the use of plastic bags and ensure that all plastic packaging is recyclable or reusable by 2030.
The "first-ever Europe-wide strategy on plastics" will adopt a "use and reuse" method to curb the use of plastic, said a statement by the European Commission.
The Commission wants to achieve a recycling rate of 50 percent by 2030.
Innovation is key for the EU's plan to work.
The EU plans to invest an additional 100 million euros on top of current spending to develop more recyclable materials and more efficient recycling processes.
Additionally, the EU aims to create 200,000 new jobs in the recycling industries by 2030.
The Commission will also propose measures to expand collection of plastic waste, promote alternatives to single-use plastic items, such as takeaway containers, and facilitate access to public water fountains to reduce using plastic water bottles.
"If we don't change the way we produce and use plastics, there will be more plastics than fish in our oceans by 2050," said vice-president of the commission Frans Timmermans.
Europeans generate 25 million tonnes of plastic waste but less than 30 percent is collected for recycling, according to the Commission.